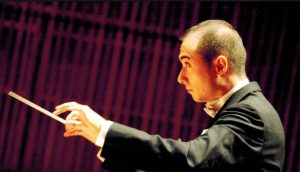 Born in Seattle, Washington on 1981. Raised in Detroit, Michigan.
Fully bilingual in English and Japanese. Arrived in Japan in 2003 and has been active in Japan as a classical musician. Based in Tokyo, Japan.
Studied conducting under the late Kotaro Sato, Kenichiro Kobayashi, Hiroyuki Odano, Yoshikazu Tanaka, and Yoko Matsuo. He is highly acclaimed for his meticulous and precise orchestral direction.

Education
1996~1999  Interlochen Arts Academy(Clarinet Performance)
1999~2003  Cleveland Institute of Music(Bachelors in Clarinet Performance)
2006~2008  Tokyo University of the Arts (Masters in Conducting)

Work Experience
2003~2006  
Active as a clarinetist in as a soloist and various orchestras including the Kosei Wind Orchestra.
2008~Present  
Has conducted the Tokyo Philharmonic Orchestra, Orchestra Ensemble Kanazawa, Nagoya Philharmonic Orchestra, Central Aichi Symphony Orchestra, Geidai Philharmonia, Aizu Citizen's Orchestra, Iwaki Symphony Orchestra, Ibaraki Symphony Orchestra, Sumida Triphony Hall Junior Orchestra, Tsukuba University Orchestra, Kanagawa Philharmonic Chorus, Bunkyo Civic Chorus, and others.